Stability chambers
Kambic Stability Chambers are the perfect tool for stability testing. Whether your testing is for research and development, clinical trials or ongoing stability, Kambics chambers provide a stable, temperature and humidity-controlled environment. Perfect for the pharmaceutical industry- the stability chambers can be used for accelerated aging and testing product shelf life.
Withnell Sensors Ltd is the exclusive distributor and after sale service provider of Kambic stability chambers in the UK & Ireland.
Kambic is a company specialised in designing, developing and manufacturing of high-quality laboratory and process equipment. Kambic's chambers offer unbeatable performance, with highly impressive stability and uniformity.
Independent Advice
We are always available to offer expert advice and technical support. Our experienced engineers have worked with a wide range of clients on various projects. We can help you to select the right chamber to suit your requirements and we provide exceptional after sales support, offering extra reassurance.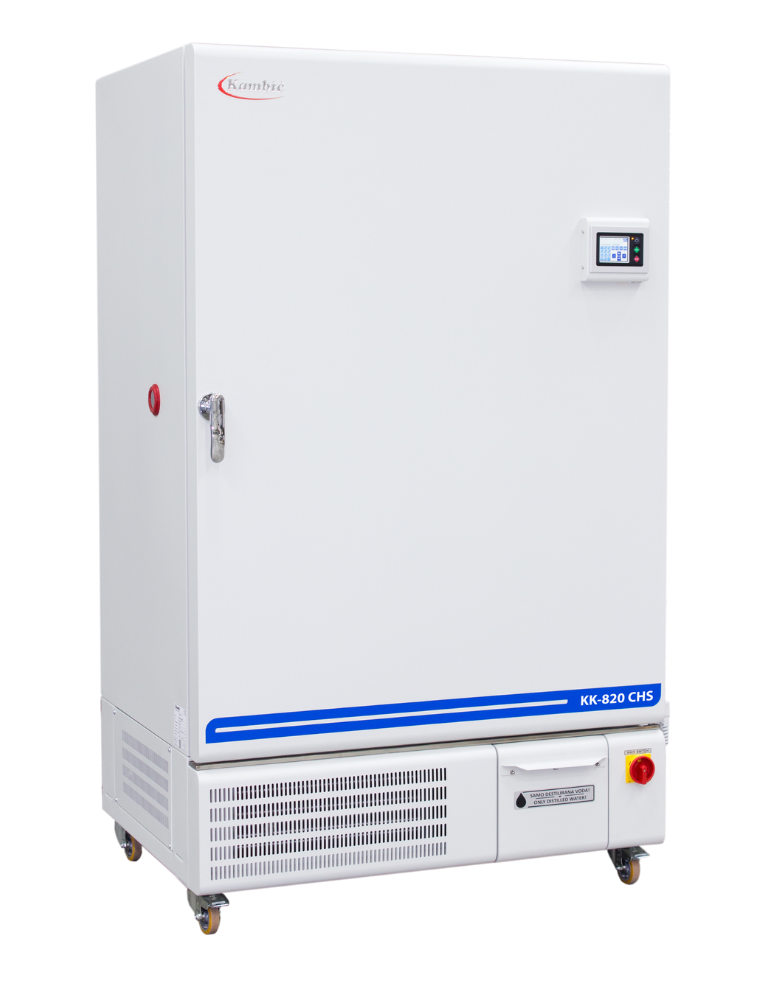 2 Volumes available from 820L to 1300L
Exceptional uniformity and stability
GMP qualification package available
Kambic Stability Chamber Features:
Fan for internal air circulation
Controller with user friendly interface, history graph, advance settings options RS232 or USB communication ports
2 level over temp. protection 5°C over set point heating disabled, 10°C above max temp. mechanical shut off
All exterior in galvanized and powder coated steel RAL-7035
Fully stainless-steel chamber with 3 side double wall for superior air distribution above each shelve even at loaded chamber
Easily accessible stainless-steel water tank with level switch or option with automatic water feeding
Lockable heavy duty closing mechanism
Full 4 side maintenance access to ref. system
Heavy duty swivel wheels with brake for simple manipulation
Height adjustable stainless-steel wire shelves (1 wire shelve included, extra as accessory, also perforated shelves as accessory)
Access port with both end plugs Ø40 as standard, Ø50 or Ø90 as accessory
Parallel sealed with soft profile silicone seal to ensure perfect tightness
Extensive heat insulation shield on all chamber sides and doors
Access port for instillation of independent sensors
Available stability chamber models
| | KK-820 CHS | KK-1300 CHS |
| --- | --- | --- |
| Volume | 820L | 1300L |
| Temperature Range | +10°C to +60°C | +10°C to +60°C |
| Relative Humidity Range | 20% to 90% | 20% to 90% |
| External dimensions (WxHxD) | 1145 x 1950 x 965mm | 1600 x 1993 x 954mm |
| Internal Dimensions (WxHxD) | 980 x 1343 x 620mm | 1480 x 1400 x 625mm |
| Max Capacity | 250 kg | 250 kg |
| Temperature stability | Better than ±0.5°@ all ICH climatic points | Better than ±0.5°@ all ICH climatic points |
| Temperature Uniformity | Better than ±1,5°C @ all ICH climatic points | Better than ±1,5°C @ all ICH climatic points |
| Wattage | 3200 | 3200 |
| Relative humidity stability (%) | Better than ±3%@ all ICH climatic points | Better than ±3%@ all ICH climatic points |
Please download our brochure for more detailed information
Please contact us for a quick quotation. Standard products can be quoted within 1 business day. We can also offer tailored solutions for your specific requirements!