Temperature Controlled Chambers (Air Baths)
Air Baths/ Temperature Controlled Chambers
Withnell Sensors are the exclusive UK distributors of Kambic, a manufacturer of Air Baths/ Temperature Controlled Chambers based in Slovenia.
The Air Baths have exceptional performance and unbeatable value and are a perfect solution for an ultra-stable environment.
The Temperature Controlled Chambers are constructed as a convenient and inexpensive way to maintain the temperature of air resistors in the calibration laboratory. Easy access to the inside of the chamber is achieved through the conveniently mounted front door.
The temperature controlled chambers have an ultra-stable temperature and uniformity, with a world class metrology performance. They provide a large and oil free working area, with low noise. Cooling and heating for the chamber are provided for by a thermoelectric Peltier element using internal thermistors as sensing elements. Internal fans are used to move the air inside the chamber to provide for better temperature stability and uniformity while maintaining a quiet operation. The internal temperature is shown on an external display located on the front of the chamber. A user friendly interior design with state of the art repeatability and a user-friendly touch screen interface.
Fully stainless-steel chamber with 5 side double skin creating chamber in chamber environment for superior temperature uniformity. All exterior in galvanized and powder coated steel.
Independent Advice
We are always on hand to offer expert advice and technical support. Our engineers have experience with working with a range of clients on various projects. We can help you to select the right temperature controlled chamber to suit your requirements and our after sales care is exceptional, offering extra reassurance.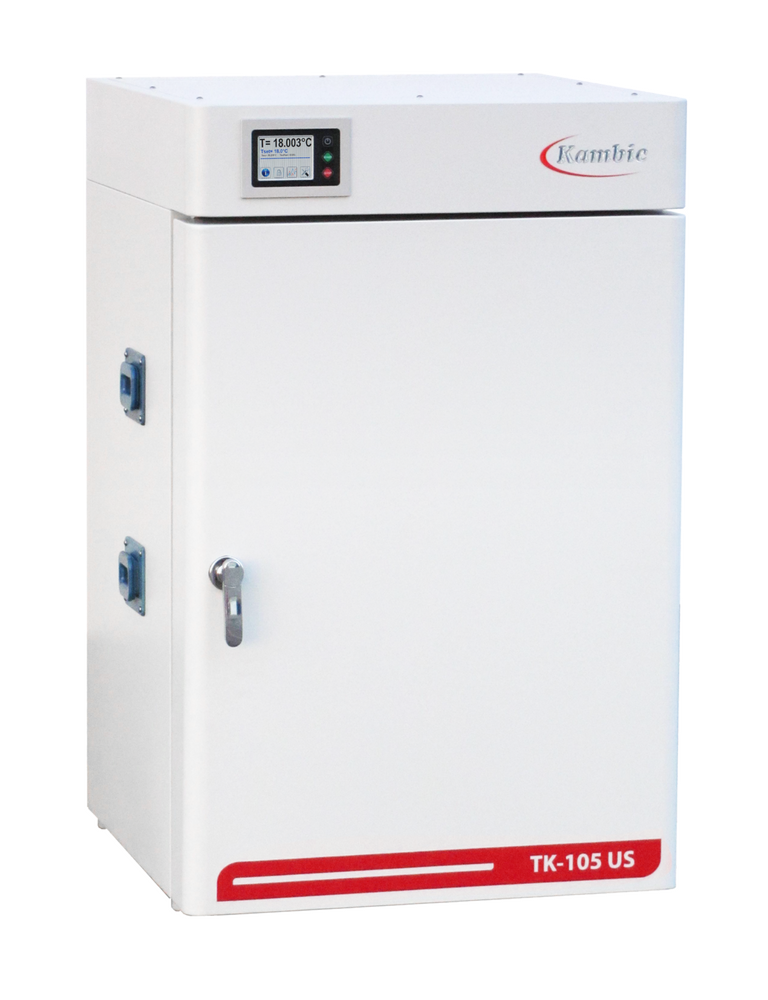 Ultra stable temperature environment
User friendly control panel
Available volumes of 106L or 190L
Features of the Air Baths
Fan-forced air circulation

Peltier driven technology

Dry, clean, stable and silent storage for resistors

User friendly control panel which includes an LCD and configurable functions

Extensive heat insulation on all chamber sides and doors

Open door alarm

Height adjustable stainless steel wire trays
Accessories of the Temperature Controlled Chambers:
Select from a range of accessories including;
Additional wire shelves
Aditional sealable side access port

Ethernet interface

USB interface
Available chamber types with the corresponding technical data sheets:
| | TK-8 US | TK-50 US | TK-105 US | TK-190 US | TK-300 US |
| --- | --- | --- | --- | --- | --- |
| Volume | 8L | 53L | 105L | 190L | 105L |
| Temperature Range | +15°C to +50°C | +15°C to +50°C | +15°C to +50°C | +15°C to +50°C | + 18°C to 35°C |
| External dimensions (WxHxD) | 230 x 578 x 332mm | 705 x 865 x 640mm | 705 x 1130 x 700mm | 875 x 1300 x 700mm | 905 x 1400 x 800mm |
| Internal Dimensions (WxHxD) | 160 x 330 x 157mm | 400 x 375 x 350mm | 400 x 640 x 410mm | 570 x 810 x 410mm | 601 x 1000 x 500mm |
Please download our brochure for more detailed information on the air baths
We offer custom solutions – Please contact us and describe your specific requirements and we will offer you a tailored system!