AiroSensor- Wireless Temperature Sensor
About the AiroSensor, a cloud based, wireless temperature monitoring system
AiroSensor leads a new generation of ultra low power, wireless temperature data loggers. Providing accurate temperature and humidity monitoring information and offering automatic, wireless transfer to the cloud.
Data is transferred securely to the cloud using small, robust Access Points, in cases where an Access point is out of reach-for example during product transit, then the airosensor acts as a datalogger and stores up to 15,000 internal measurements. As soon as the wireless temperature sensors come into range of an AccessPoint they automatically start offloading their data, without the need for manual intervention. The internal battery of the AiroSensor lasts for 10 years, delivering over one million temperature and humidity measurements safely to the Cloud.
Pharmacies must comply with strict rules and regulations of the pharmaceutical industry. Medicine and vaccines for example, must be kept in specific conditions to prevent the loss of quality and effectiveness.
SenseAnywhere provides reliable monitoring solutions that monitor conditions securely, automatically and continuously. With the easy to handle wireless data loggers you take care of time and temperature records of the storage facilities. Alarm settings can be easily set to suit the requirements of different types of medicines and provide instant warning per Email or SMS. Reliable temperature logging is guaranteed so you can ensure that your drugs are being stored correctly.
Reporting and quality compliance is a breeze meaning adhering to Cold Chain, GDP and HACCP rules has never been easier!
The wireless temperature monitoring systems are also used in laboratories, warehouses, cold chain, transport of medicines, hospitality, healthcare and retail.
SenseAnywhere Application
Temperature control is essential both during transport and during storage. As of recently companies such as AFL Barendrecht have used SenseAnywhere; a very simple but extremely effective system that measures temperature, humidity and movement- and immediately posts these measurements online to any smart device of your choice.
AFL Barendrecht is one of the largest fruit and vegetable transporters in the Netherlands. Office Manager for the company Alkine Barendrecht says "We personally, as well as our customers, want to know under which circumstances the fresh produce has been transported. SenseAnywhere was an ideal solution for our problem. We simply installed it ourselves and it looks after itself, no tricky wiring or other matters."
However, transportation isn't the only use for the product; it is applicable in greenhouses, warehouses, stables, refrigerators, and freezers over many industries.
The SenseAnywhere system is a game changer for temperature and humidity monitoring, it does not require technical services or an IT department. It sends an email or text message when things are not as they should be so that you can immediately intervene.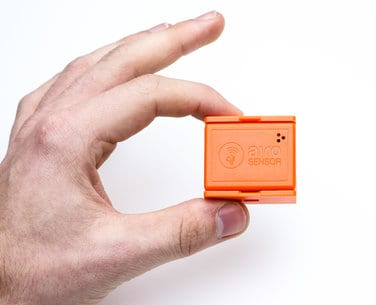 Watch our short video to understand more about the SenseAnywhere wireless temperature monitoring range
Register + connect = ready
Accessible from any device
| | Temperature | Temperature Extended Range | Temp & Humidity | Temp & Humidity Extended Range |
| --- | --- | --- | --- | --- |
| Temperature Range | -40°C to +70°C | -40°C to +70°C | -30°C to +70°C | -30°C to +70°C |
| Temperature Accuracy | ±0.15°C (-40°C to 0°C) ±0.10°C (0°C to 70°C) | ±0.15°C (-40°C to 0°C) ±0.10°C (0°C to 70°C) | ±0.5°C (-30°C to -10°C) ±0.3°C (-10°C to 70°C) | ±0.5°C (-30°C to -10°C) ±0.3°C (-10°C to 70°C) |
| Relative Humidity Range | N/A | N/A | 0 – 100% RH (Non condensing) | 0 – 100% RH (Non condensing) |
| Humidity Accuracy | N/A | N/A | Typ. ±2% RH (0-80% RH) | Typ. ±2% RH (0-80% RH) |
| Wireless Range Outdoor | 100m | 600m | 100m | 600m |
| Battery Life | Up to 10 years with 5 min. interval = 1 million events | Up to 10 years with 5 min. interval = 1 million events | Up to 10 years with 5 min. interval = 1 million events | Up to 10 years with 5 min. interval = 1 million events |
| Memory | 15,000 events internally (52 days @ 5 min) | 15,000 events internally (52 days @ 5 min) | 15,000 events internally (52 days @ 5 min) | 15,000 events internally (52 days @ 5 min) |
| Size | 41 x 33 x 24mm | 131 x 33 x 24mm | 41 x 33 x 24mm | 131 x 33 x 24mm |
| Protection Class | IP 67 (waterproof) | IP 67 (waterproof) | IP 62 | IP 62 |
Please download our brochure for more detailed information:
We offer independent, expert advice – Please contact us and find out more or register your interest in a no obligation 7 day trial