Environmental Test Chambers
Kambic Chambers
Kambic Climatic Chambers allow you to simulate different climates and environments with ease and precision to understand the impact on the safety or quality of your products. Alternatively, these high-performance environmental test chambers can be used for quick and efficient calibration of a range of sensors. Various volumes across 3 distinct temperature ranges, custom sizes and walk-in chambers are also available.
Withnell Sensors Ltd is the exclusive distributor and after sale service provider of Kambic climatic chambers in the UK & Ireland.
Kambic is specialised in the designing, developing and manufacturing of high quality climatic chambers and controlled environment rooms. Kambic environmental test chambers offer the ideal solution for temperature and humidity testing, simulation and exposure to weather, temperature cycles, aging and stress testing.
The climatic chambers are a refined solution for research and development studies, quality control, production facilities and laboratory testing. The range of kambic carbon neutral environmental testing chambers offer the ideal solution for temperature and climatic testing, simulation and exposure to weather, temperature changes, ageing and stress testing.
Independent Advice
We are always on hand to offer expert advice and technical support. Our engineers have experience with working with a range of clients on various projects. We can help you to select the right climatic chamber to suit your requirements and our after sales care is exceptional, offering extra reassurance.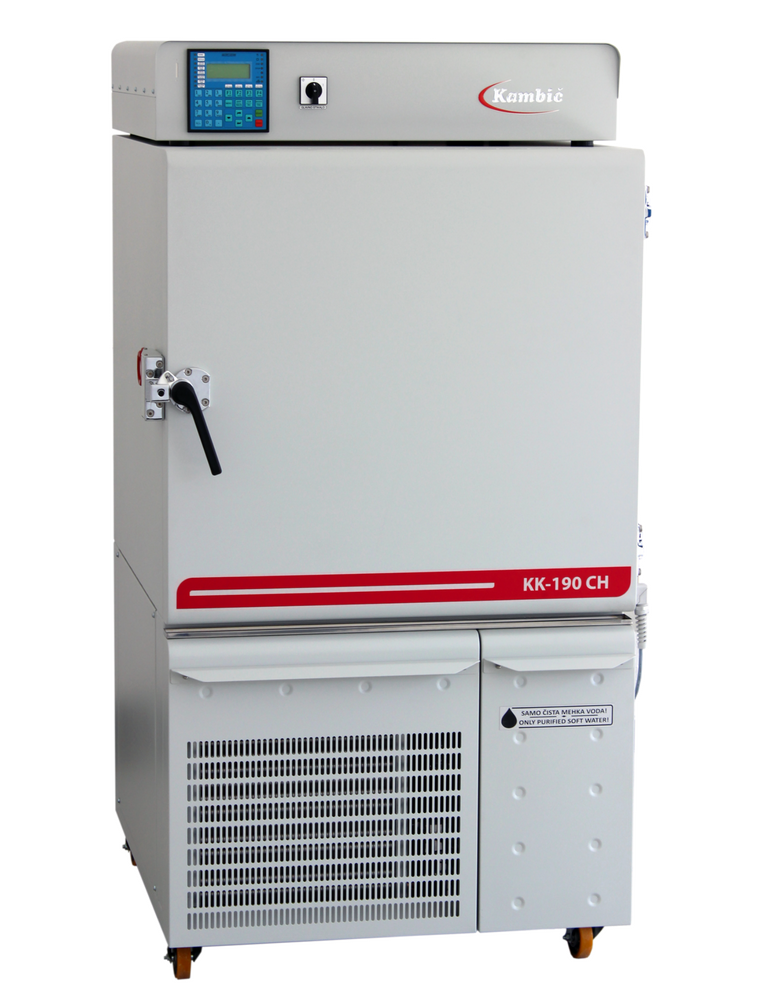 Volumes available from 50L to 1000L
Exceptional uniformity and stability
Innovative user friendly control panel
Custom sizes and walk in options available
Climatic Chamber Features
Innovative air circulation system enables a uniform and stable temperature and humidity profile across the chamber
User friendly control panel which includes an LCD and configurable functions
Highly stable and rapid humidity control via a sophisticated dew point system
Resolution for temperature display and set-point 0.1°C
Resolution for relative humidity display and set-point 1%rH
Dual protection system against uncontrolled over-temperature events
Mechanical over-temperature device shuts off heating elements if temperature exceeds maximum allowed values
Interior chamber manufactured from Polished AISI 304 stainless steel
Exterior panels made from powder-coated galvanised steel (RAL7035)
Accessories for Climatic Chambers:
Select from a large range of accessories including;
Additional wire shelves
Additional sealable side access port (Ø40 , Ø50 , Ø90)
Chamber LED illumination and doors equipped with observation glass
Software for direct communication with the chamber controller (PC control and data history)
IQ/OQ documentation
Extended Rh control range
Ethernet interface
USB interface
Please download one of our climatic chamber brochures for more information;
Please contact us contact us for a quick quotation. Standard products can be quoted within 1 business day. We can also offer tailored solutions for your specific requirements!