Peltier Chambers
For calibration of air temperature and relative humidity sensors
Withnell Sensors offer a range of Peltier Chambers from Kambic, the quiet chambers are manufactured in two standard chamber sizes with maximum operating temperature of 55°C. If required, this range also provides a foundation upon which a wide range of custom modifications can be added.
The stability chambers are for environmental simulation, material testing and stability testing. The peltier system means they are quiet, space-saving, environmentally friendly and also economical. The innovative Peltier technology in the Kambic peltier climatic chamber provide stable and precise long-term tests. The temperature control from +8 ºC to +55 ºC, as well as the active humidification and dehumidification from 10% to 98% rh, are optimally tuned to the requirements of stability analysis.
Generally, stability tests are performed at a temperature close to the ambient temperature. With the Kambic peltier chamber, the impressive economy of the heating and cooling concept with Peltier elements can be seen. Over the course of a test run lasting several months, energy savings of up to 90 % can be achieved. Because it runs so quietly, the constant climate chamber is ideal not only for environment simulation and long-term material tests, but also for breeding insects and reptiles.
Independent Advice
We are always on hand to offer expert advice and technical support. Our engineers have experience with working with a range of clients on various projects. We can help you to select the right chamber to suit your requirements. Our after sales care is exceptional, offering extra reassurance.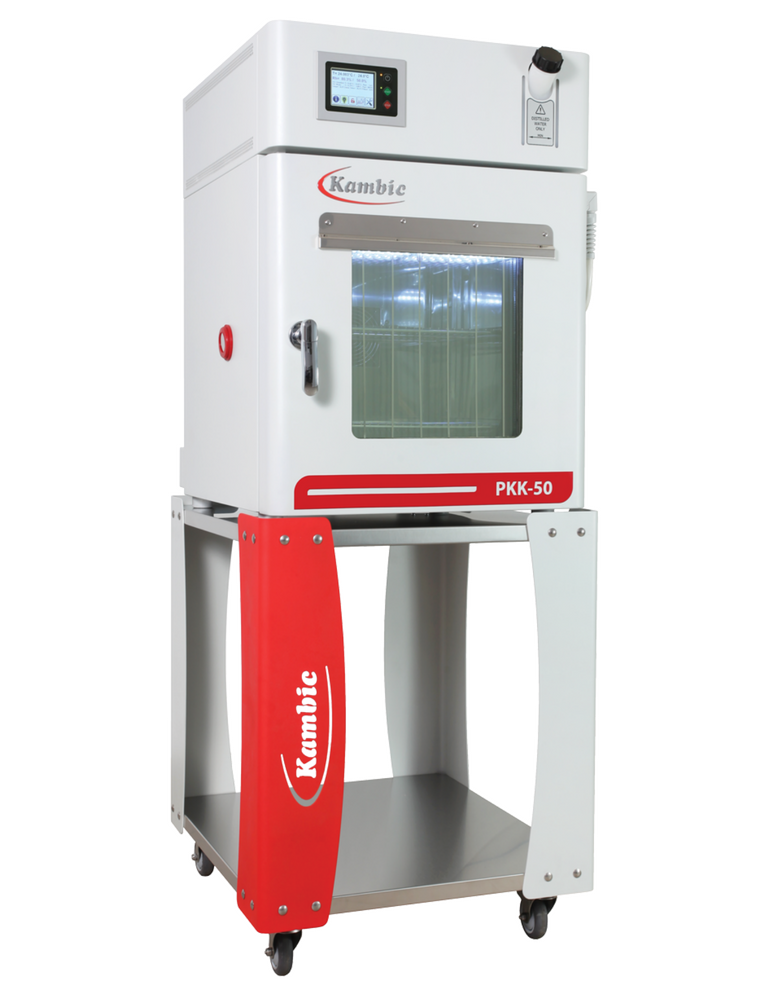 Small product stability testing
Superior temperature & Rh stability
Stable, silent, vibration free climatic conditions
Peltier Chamber Features:
Touch screen based controller with user friendly interface, history graph advance settings options
Water tank with illumination and safety level switch
Fully stainless steel chamber with all rounded corners
Fully enclosed design with powder coated exterior
Extensive heat insulation shield on all chamber sides and doors
Fan for internal air circulation
Soft profile silicone seal
Height adjustable stainless steel wire shelve, additional shelves as accessory
Temperature controlled observation window with illumination (As accessory)
Available models for the Peltier Chambers:
| | PKK-50 | PKK-125 |
| --- | --- | --- |
| Volume (L) | 57 | 125 |
| Temperature Range (°C) | Ambient +8....55 | Ambient +10....50 |
| Relative humidity range (%) | 10....98 | 10....98 |
| External dimensions (WxHxD) | 570 x 800 x 660mm | 670 x 1135 x 755mm |
| Internal Dimensions (WxHxD) | 400 x 400 x 360mm | 500 x 500 x 500mm |
| Temperature stability (°C) | ±0.06 @ 15 °C, 75%Rh ±0.04 @ 20 °C, 60%Rh ±0.03 @ 30 °C, 65%Rh ±0.06 @ 50 °C, 75%Rh ±0.12 @ 50 °C, 15%Rh | ±0.08 @ 15 °C, 75%Rh ±0.05 @ 20 °C, 60%Rh ±0.05 @ 30 °C, 65%Rh ±0.10 @ 50 °C, 75%Rh ±0.10 @ 50 °C, 15%Rh |
Please download our brochure for more detailed information about the peltier chambers
Please contact us for a quick quotation. Standard products can be quoted within 1 business day. We can also offer tailored solutions for specific requirements!