Micro Calibration Baths
Our micro calibration baths have exceptional performance and unbeatable value and are a perfect solution for on-site calibrations.
Withnell Sensors are the exclusive UK distributors of Kambic, a manufacturer of micro calibration baths based in Slovenia. This might be small and portable calibration bath but it packs impressive technical stats with uniformity and stability in mK range. Offering users the ability to calibrate sensors of various dimensions, the fluid ensures perfect heat transfer through the unique vertical flow design.
Fluid baths are ideal for calibrating temperature sensors, transmitters or even complete temperature systems. Not only do they allow calibration of multiple systems at the same time, but also offer the added advantage of accommodating sensors of all shapes and sizes. Finally, there is an assurance that sensor and reference are always subjected to a uniform temperature.
There will always be a requirement to calibrate sensors outside of a standard laboratory environment, this portable calibration bath offers the opportunity for the best possible technical results meaning that the standard of your calibration does not need to be compromised.
Independent Advice
We are always on hand to offer expert advice and technical support. Our engineers have experience with working with a range of clients on various projects. We can help you to select the right micro calibration bath to suit your requirements and our after sales care is exceptional, offering extra reassurance.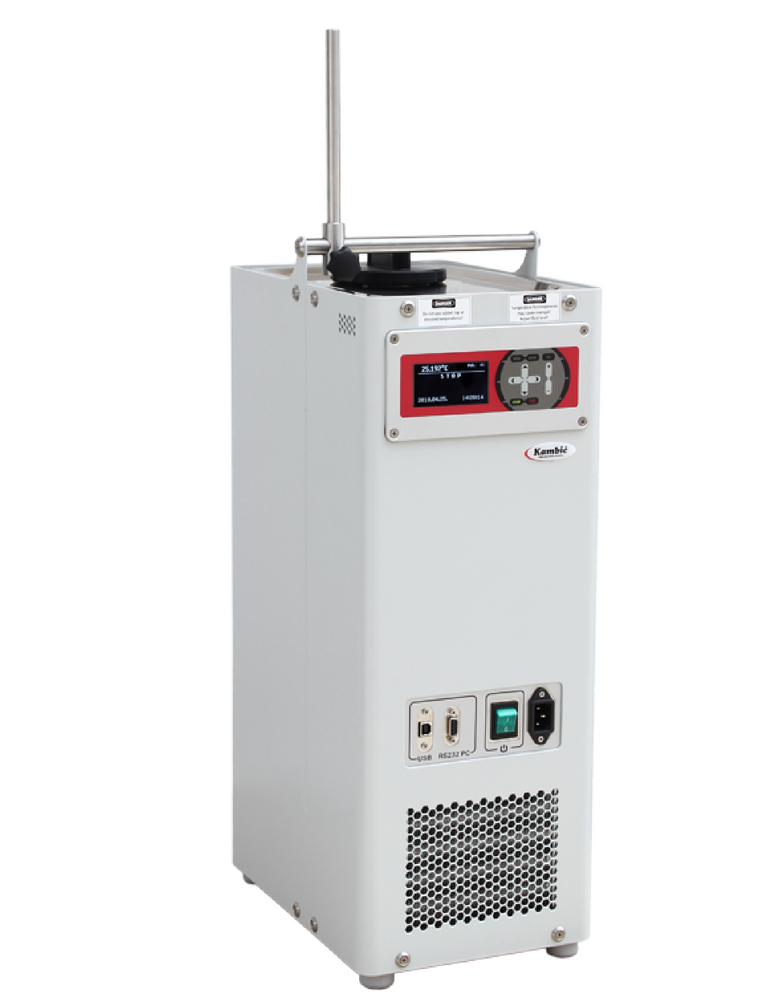 1L Volume- ideal for portable use
Exceptional uniformity and stability across range
Innovative, user friendly control panel
2 distinctive temperature ranges
Micro Calibration Bath Features:
Adjustable multiple probe fixture
Carrying handle
Bath working chamber rubber cap
Stainless steel interior
Powder coated exterior
Power cord connection
Rubber legs
Conventional compressor based refrigeration system
RS-232 PC port
USB port
Control panel with OLED display and keyboard
Accessories of the Micro Calibration Baths:
Choose from a range of accessories, the 3 key ones being;
Vertical fixture and clip on holder
Adjustable multiple probe fixture
LIG (Liquid in glass thermometer) Fixture
Please download our brochure for more detailed information on the micro calibration baths
| | OBM |
| --- | --- |
| Volume | 1L |
| Temperature Range | +35°C to +220°C |
| External dimensions (WxHxD) | 225 x 638 x 330 |
| Internal Dimensions (cross x immersion depth) | Ø 50 x 210 mm |
| Weight (kg) | 29 |
| | OBM-LT |
| --- | --- |
| Volume | 1L |
| Temperature Range | -40°C to +130°C |
| External dimensions (WxHxD) | 225 x 638 x 330 |
| Internal Dimensions (cross x immersion depth) | Ø 50 x 210 mm |
| Weight (kg) | 35 |
Please contact us for a quick quotation. Standard products can be quoted within 1 business day. We can also offer tailored solutions for specific requirements!