Ametek 125A Dry Block Temperature Calibrator Rental
About the Ametek 125A
The Ametek 125A professional dry block temperature calibrator – the JOFRA® PTC-125 and ATC-125, are versatile temperature calibrators available with a temperature range from -90 to 125°C. It is especially ideal for use in the health care, medical, pharmaceutical, biotechnology and food industries. Our dry block temperature calibrator rental is suitable for project work and is often used as a stable and moveable heat source when conducting pre and post verifications for temperature sensors and thermocouples. The equipment will be supplied with transport case and calibration certificate and we offer competitive pricing and short minimum rental periods.
The Ametek 125A is user friendly, intuitive to use and a great piece of equipment for work on site, the PTC-125/ ATC-125 are equipped with a large informative, easy-to-read display.
Lightweight and easy-to-carry, the Ametek 125a is easy to move from job to job. Mechanically stable with its high-tech design the PTC-125/ ATC-125 ensures durability and lasting quality.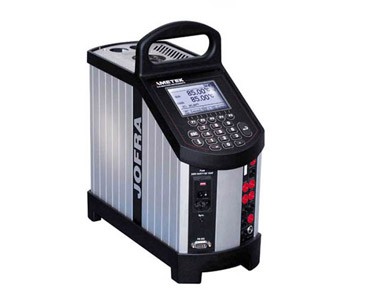 Superior Performance
The JOFRA Ametek 125a dry block temperature calibrator features a unique technology for optimum performance and superior temperature homogeneity throughout the block at very low temperatures.
The product has a performance equivalent to a liquid temperature bath and features the widest temperature range for any cooling dry-block on the market today. The dry block temperature calibrator may be used to perform fully automatic calibration routines without using an external computer. It is also possible to use the computer for full upload and download capabilities.
The Ametek 125a may also be supplied with inputs for external reference sensors and for sensors-under-test. All ATC/PTC calibrators feature RS232 serial communication and the standard delivery also includes the JOFRACAL calibration PC software. The ATC-125/ PTC-125 ultra cooler is part of a series of calibrators that deliver excellent stability and performance.
Minimum rental period from just two weeks
Supplied with UKAS accredited calibration certificate
Supplied with inserts, shipping case and power lead