Elitech LogEt 8 TH Temperature and Humidity Data Logger
Excellent Performance, Low Cost USB Temperature & Humidity Data Logger
The Elitech LogEt 8 TH, temperature and humidity data logger, available from Withnell Sensors is ideally suited for temperature-sensitive products during storage and transportation. Featuring a higher accuracy of ±0.3℉, it is widely used in the life science field such as blood, vaccines and pharmaceuticals. The built in USB port makes it highly convenient to set technical parameters and export the data. The data logger aims to protect the entire storage and shipment process and provides accurate and reliable temperature monitoring recordings.
Key Features
Multi-use and High Recording Capacity
Up to 16,000 temperature points and 16,000 humidity points
High-precision Internal Temperature and Humidity Sensor
Plug and Read, No cable or reader required
Auto encrypted and generated PDF reports with password protection
Personalised settings
Free Elitechlog software.
Durable Working Life- it can be stored and used within 2 years.
Comes with a calibration certificate.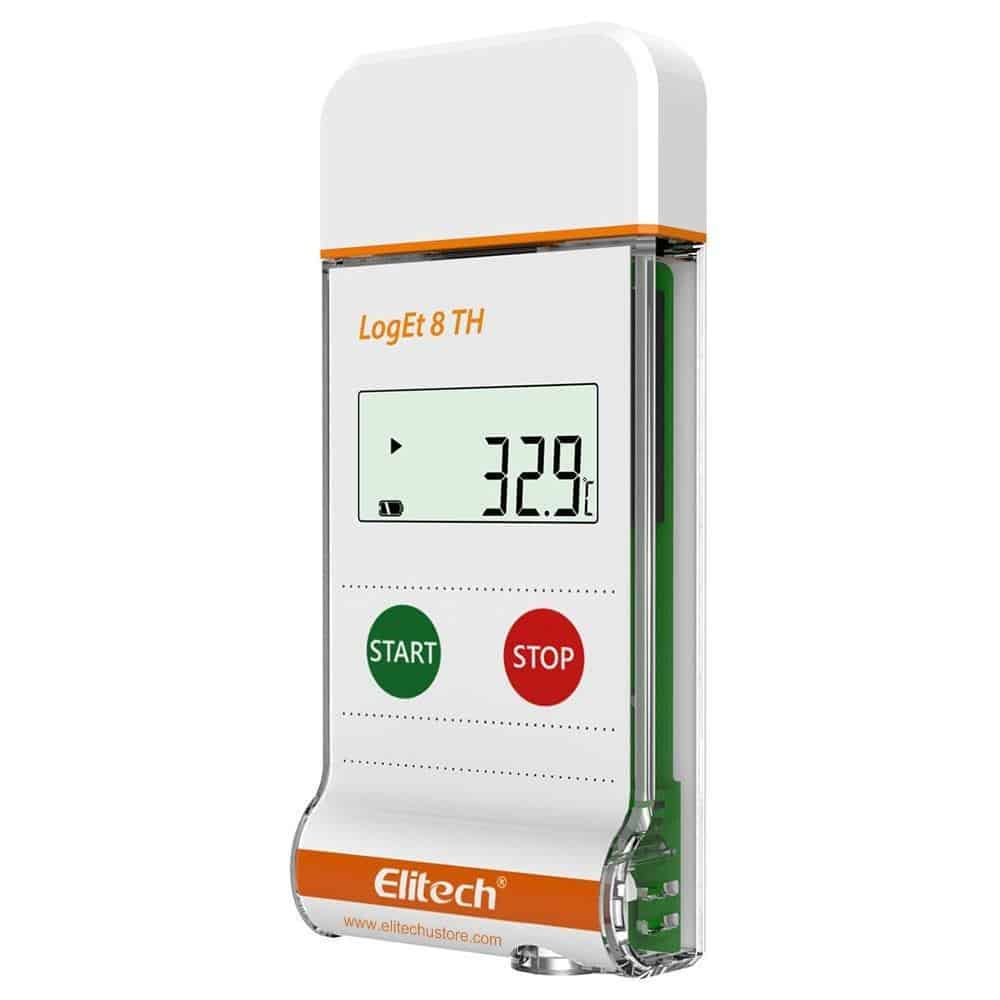 Product Model
RC-5
Temperature Measurement Range
-30℃ ~ +70℃
Relative Humidity Measurement Range
10 to 90%
Resolution
0.1 °C
Temperature Accuracy
±0.3℃ ( -20℃~+40℃); ±0.5℃ (others)
 
Humidity Accuracy
•
±3% RH (20%~80%RH); ±5% RH (others)
Temperature Reading
℃ or ℉ Optional
Recording Capacity
16,000 recordings
Sampling Interval
Configurable from 10s~24hour
Sensor Type
Internal and external temperature and humidity sensors
Alarm Thresholds
Up to 3 high limits and 2 low limits
Alarm Type
Single/Cumulative
Data Download
USB PDF report
Battery
3.6V single-use lithium battery
Battery Life
2 years (stored and used in normal temperature environment)
Protection Grade
IP65
Dimensions
4 x1.8x 0.8 inches (L*W*H)
Weight
59g
Watch the Elitech LogEt 8 TH set up video
Download the technical data sheet