The Kaye ValProbe RT Validation and Monitoring System
We are pleased to offer the Kaye ValProbe® RT (Real-Time) wireless real-time process validation and temperature/ pressure monitoring system. The Kaye ValProbe RT logger range are designed to conform to the most stringent measurement and reporting regulatory (FDA / GAMP) requirements for thermal validation.
The Kaye ValProbe RT builds on the great success and efficiency of the widely recognised Kaye ValProbe, which became the accepted standard in wireless validations systems for more than 15 years. The RT range is an advanced validation system that simplifies the entire validation process, through a combination of high accuracy measurements, automated sensor calibration, an intuitive metro style user interface, and extensive reporting functions, making it the most effective and beneficial system on the market.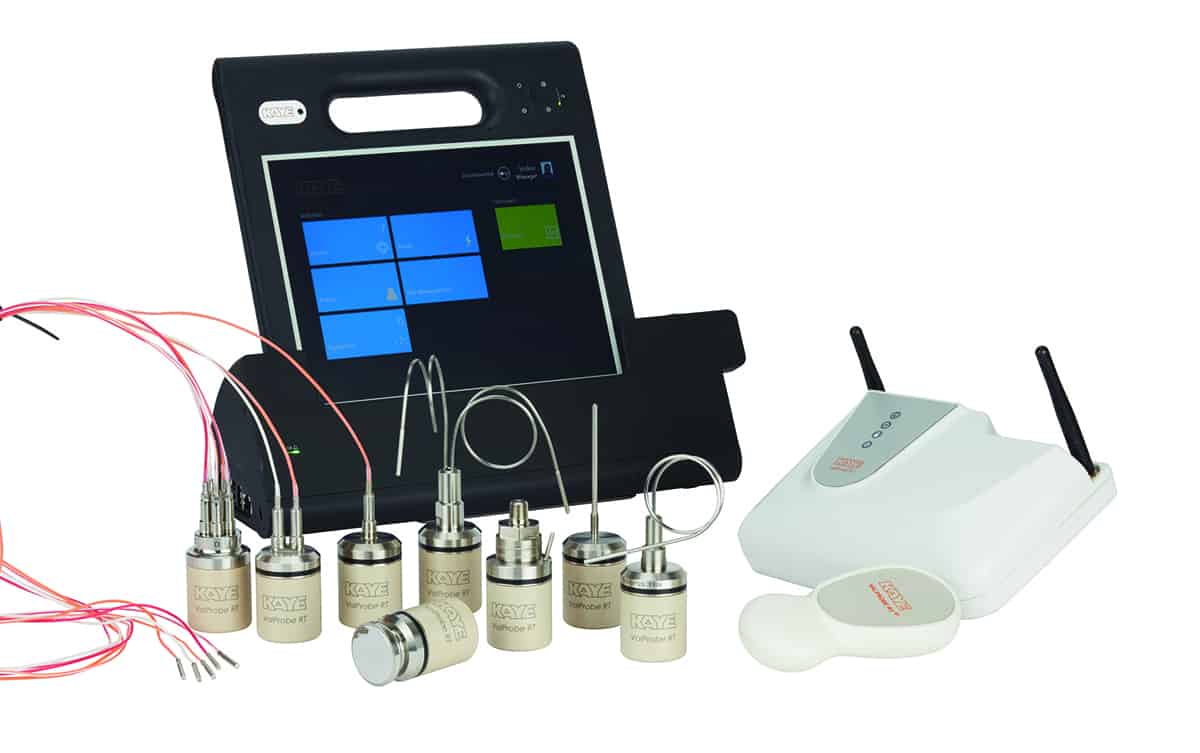 The Golden Standard For Validation
The collection of ValProbe RT temperature data loggers offer convenient, accurate and reliable process measurement for a wide range of pharmaceutical, and medical device applications. The wireless loggers provide a simplified monitoring and validation of harsh and hard-to-reach environments. The system provides a tailored design and system by combining a ValProbe RT logger system with a Validation Console.
The console is a robust and hardened tablet that connects with your Kaye ValProbe RT and legacy hardware. Kaye software is preinstalled on the system and exclusively engineered for Validation tasks. This set up greatly simplifies software validation and dependency on PC's, Operating Systems, and core loads that are forever changing- thus providing additional reliability and usability.
To summarise, the Kaye ValProbe RT allows you to focus on the validation and takes away the technological worries. They system will provide you with a seamless user experience that will leave you wondering how you and why ever worked without it. It is an intuitive, efficient, and easy to operate system, which is the gold standard for validation. Withnell Sensors are authorised partners for all Kaye products and servicing- speak to one of the team today if you would like to know more about any Kaye products.
Kaye ValProbe RT Technical Specifications;
Rigid
Bendable
Flexible
Surface
Pressure
Sensor Type
Single Sensor
Single & Dual Sensor
Single, Dual and 5-Channel
Ultra Flat Surface Sensor
Single P/T Sensor
Sensor Length
1.5, 3, 6, 9" inches
38, 76, 152, 229 mm
12, 24, 36" inches
305, 610, 915 mm
40" inches
1000 mm
-
-
Tip Diameter
0.118"; 3mm
0.095"; 2.4mm
0.095"; 2.4mm
32mm diameter
1/4 NPT Connection fitting
Measurement Range
-85°C to 140°C
-85°C to 400°C
-85°C to 140°C
-85°C to 140°C
0°C to 140°C / 0-5bar abs.
Accuracy
-85°C to 140°C,
±0.1°C
-85°C to 140°C
±0.1°C 140°C to 400°C
±0.25°C
-85°C to 140°C
±0.1°C
-85°C to 140°C
±0.1°C
0°C to 120°C
±25mb 120°C to 135°C
±10mb 135°C to 140°C
±25mb 0°C to 140°C,
±0.1°C
Like to learn more about the Kaye ValProbe RT or require any more information? Contact us to speak to a technical sales member today.